The Redemption (4 of 5)
Jesus Christ

Jesus is the focal point and center of God's mediatorial kingdom plan. God tasks Jesus with bringing this rebellious planet back into perfect conformity with His will (1 Cor 15:24, 28). As the ultimate Man, Seed, Israelite, and David, Jesus is the One who reverses the curse, defeats Satan, purchases salvation, and restores all things. As the Last Adam, Jesus must rule from and over the earth, succeeding in the realm where the first Adam failed. As the ultimate David, Jesus the Messiah must rule the world over a united Israel and the nations from Jerusalem. As the ultimate Israelite, Jesus is the Servant of the Lord who restores the nation Israel and brings blessings to the Gentiles. The basis of Jesus' kingdom is His sacrificial death (Heb 2:9; Rev 5:9). As the Servant of the Lord, Jesus identifies with Israel and is the true Israel.
Because there are two comings of Jesus the Messiah, the kingdom relates to these two comings.
With Jesus' earthly ministry He presented the kingdom to Israel and gave foretastes and demonstrations of the kingdom with His miracles and exorcisms.


With His death, Jesus established the new Covenant.


With His resurrection and ascension Jesus sends forth the Holy Spirit to indwell and empower His saints to obey God.

In fulfilment of Psalm 110:1 Jesus is currently at the right hand of the Father where He shares the throne of deity and possesses all authority in heaven and earth.
At His second coming, Jesus will assume His Davidic kingdom reign over the earth for a thousand years (see Ps 110:2; Matt 25:31; Rev 3:21; 20:4-6). Then Jesus will receive universal recognition and honor in the realm where He was first rejected. This is also a time when His saints will be vindicated. While Jesus will reign forever (Rev 11:15), His mediatorial kingdom eventually merges into the Father's eternal kingdom (1 Cor 15:24-28). Jesus will forever share the eternal kingdom throne with the Father (Rev 22:3).
The Cross

Through His Son's death on the Cross, the great Creator God was dealing with every person's sin, suffering and sorrow. Jesus was dying in the place of every individual in the world. Receiving personally what He has done on the Cross brings the answer to all our needs.
1. God Reveals His Power Through the Cross

"For the message of the cross is foolishness to those who are perishing, but to us who are being saved it is the power of God" (1Cor 1:18) See also Romans 1:16.
2. God Shows His Love on The Cross

"But God demonstrates his own love for us in this: While we were still sinners, Christ died for us" (Rom 5:8).
3. God Removed Our Sorrows on The Cross

"Surely he took up our infirmities and carried our sorrows, yet we considered him stricken by God, smitten by him and afflicted" (Isa 53:4).
4. Jesus Took the Punishment for Our Sins on The Cross

"But he was pierced for our transgressions, he was crushed for our iniquities; the punishment that brought us peace was upon him, and by his wounds we are healed… We all, like sheep, have gone astray, each of us has turned to his own way; and the Lord has laid on him the iniquity of us all" (Isa 53: 5,6, 1 Peter 2:24).
The Blood

"For the life of a creature is in the blood and I have given it to you to make atonement for yourselves … it is the blood that makes atonement for one's life" (Lev 17:11)
When we sin, we earn death. "The wages of sin is death" (Rom 6:23). Jesus paid this penalty for us by shedding His blood (dying for us by shedding His blood (dying for us – in our place).
Jesus gave His life (shed His blood) on the Cross for our atonement. This made it possible for us to be AT-ONE with God. Jesus' blood means we are no longer His enemy but His friend, his sons and daughters. By faith we accept what He did for us.
What the Blood of Christ Has Brought Us

1. Purity of Heart

"But if we walk in the light, as he is in the light, we have fellowship with one another, and the blood of Jesus, his Son, purifies us from all sin" (1 Jn 1:7).
2. Eternal Life

"Jesus said to them, 'I tell you the truth, unless you eat the flesh of the Son of Man and drink his blood, you have no life in you.
"Whoever eats my flesh and drinks my blood has eternal life and I will raise him up at the last day" (John 6:53,54).
3. Approach to God

"But now in Christ Jesus you who once were far away have been brought near through the blood of Christ" (Eph 2:13).
Eternal Life

One of the most familiar passages of Scripture is John 3:16. It seems like everybody knows that verse from a young age, yet I believe it has really been misunderstood and misapplied.
John 3:16 (NKJV) 16  For God so loved the world that He gave His only begotten Son, that whoever believes in Him should not perish but have everlasting life.

Traditionally, this scripture has been used to teach that Jesus came and died for our sins so that we wouldn't perish. As true as this is, this verse is saying that the real purpose of Jesus coming to this earth and dying for us was so that we could have everlasting life. It just so happened that our sins were a barrier that stood between us and this everlasting life.
It is true that Jesus did die for our sins, and it is true that if we believe on Jesus, we will not perish, but there is much more to the Gospel than that. The real message of the Gospel is that God wants to give you everlasting life.
The night before His crucifixion, Jesus was praying, and He said this, "This is life eternal, that they might know thee the only true God, and Jesus Christ" (John 17:3)
This says that everlasting life is knowing the Father, the only true God, and knowing Jesus Christ, whom He has sent. That's what everlasting life is. Many people think that everlasting life is living forever. Well, every person lives forever. It's a misconception to think that when a person dies, they cease to exist. The spirit and the soul go back to God. The body decays in the grave. The truth is, every person who has ever lived on the face of the earth will continue to live in spirit form. So to say that eternal life is living forever is not the whole truth-everybody lives forever. This verse makes it very clear that eternal life is not given to everyone.
Some people would say, "Eternal life is living forever in heaven versus living forever in hell." But eternal life is just what Jesus said in John 17:3-to know God and Jesus Christ. It's more than an intellectual knowledge. This word "know" is used throughout Scripture to describe the most intimate, personal relationship that you can have.
The real purpose of salvation is not living forever in heaven, as great as that will be. The real purpose of salvation is to have intimacy – a personal relationship with the Lord God. There are multitudes of people who have cried out to God for the forgiveness of their sins but have never had intimacy with God as a goal.
By not explaining the real purpose of salvation, we are doing a disservice to the Gospel. When we present salvation as something that deals with just spiritual things that will only benefit us in the future, in eternity, we are not helping people. There are some people who are living in such a literal hell right now on earth. Many are depressed, living in poverty, dealing with strife, rejection, hurt, and failed marriages. People are just trying to survive day to day. They are just trying to keep their heads above water. By making salvation something that deals only with the future, many people put off that decision because they are too busy just trying to survive today.
The truth is that Jesus not only came to affect our eternal destinies so that we can live forever in heaven in blessing instead of the punishment and curse of hell, but Jesus also came to deliver us from this present evil world (Gal. 1:4). Jesus came to give you intimacy and a personal relationship with God the Father today.
Jesus came to bring you back into close, personal relationship with Him. Jesus loves you. Jesus wants to know you personally. Jesus wants to give you a quality of life that is greater than anything you could obtain through any other source.
Jesus put it this way in John 10:10: "The thief [speaking of Satan] cometh not, but for to steal, and to kill and to destroy: I am come that they might have life, and that they might have it more abundantly" (brackets mine). God wants to give you eternal life. God wants to give you abundant life, and I believe that you need that today-that you want that. Christ died not only to forgive your sins, but to bring you close to him. If you don't know the Lord, you need to know Him for that purpose.
If you've already been born again, you need to go beyond just getting your sins forgiven and enter into everlasting life with the Father.
Facts about Eternal Life

The purpose of the Gospel is eternal life. (John 3:16).


Eternal life is knowing God. (John 17:3).


Knowing God is an intimate relationship. (1 Cor. 6:16-17).


Eternal life is available now. (1 John 5:12).


God wants a personal relationship with you. (Rev. 3:20).

Our Authority

In the beginning God, of course, had all authority. All power and authority has to emanate from God because He is the only one who has power in Himself. Everything else is delegated from Him. When He created the heavens and the earth, He had all power and authority. Then in Genesis 1:26, when God created Adam and Eve, He said, "Let them have dominion…over all the earth." Put that together with Psalm 115:16, which says, "The heaven, even the heavens, are the LORD'S: but the earth hath he given to the children of men." God had ownership of everything by right of being the Creator, but He gave dominion, or authority, over the earth to physical human beings. Satan has never had the right and power to rule over the earth. He took it through deceiving man to sin. God gave that power to mankind, and when man fell, he yielded his God-given authority and power over to the devil. Satan was never given power by God to oppress man or to rule this earth.
Scripture does say that Satan is the god of this world, but it's not because God made him the god of this world. God never put Satan in a position above mankind. He gave mankind dominion and authority over this earth. The only reason Satan has ever been able to oppress, dominate, or cause the problems he does is because people yield their God-given authority to him. This posed a real problem for God, because He was a Spirit, and He had given authority over this earth to physical human beings. Only people who had a physical body had the authority and power to rule and exercise influence in this earth. Satan had to come to us and get us to yield our authority to him. That's the reason that he likes to inhabit a body. In Scripture, demons had to have a body to possess because Satan can't do anything unless he is using a physical human body to work through. Because God was a Spirit and had given authority to physical human beings, now in a sense He had His hands tied. It wasn't because God didn't have power and authority but because of His integrity. He gave authority to physical human beings, and to be true to His own Word, He couldn't just take it back and say, "This isn't the way I wanted it; time out, stop, we're going to do it over." No, God bound Himself by His own Word. Throughout history He looked for someone He could flow through, but the problem was that all men were corrupted and had yielded themselves to Satan. So what was He to do?
What God finally did was come to the earth Himself and become a man. This is tremendous when you understand it, because now the devil was in big trouble. He had been using mankind's power, and God couldn't intervene directly to solve all these problems, because man was wilfully, legally yielding his God-given authority to Satan. Satan was wrong in what he did, but man gave him the authority and power that was theirs to give. But now, here came God, and He was no longer only the Spirit but was in the form of physical flesh. This put the devil in a bad situation, because God not only had authority in heaven, but becoming a man gave Him authority on the earth. Jesus said in John 5:26-27, "For as the Father hath life in himself; so hath he given to the Son to have life in himself; And hath given him authority to execute judgment also, because he is the Son of man." He was referring to His physical body.
Jesus came and exercised God-given authority. The devil tempted Him, and Jesus never yielded to him. Satan lost in every battle with Him. Then Jesus took our sins, died for them, went to hell, rose again, and said in Matthew 28:18, "All authority is given unto me in heaven and in earth." He won back the authority God had given mankind, which man misused, and as God in the flesh, Jesus now had all authority in heaven and in earth. In the very next verse He said, "Now you go, and you do these things." In effect He was saying, "I now have all authority in heaven and earth, and I'm sharing it with you." This time, however, there's a unique difference in the authority God has given back to us as believers. It is joint authority between us and the Lord Jesus Christ. It's no longer given to us solely as it was to Adam and Eve. They could give the authority away, allow the devil to oppress them, and basically be hopeless, but today our authority is shared with the Lord Jesus Christ. It's like having a joint bank account that requires both signatures in order to cash a check. Our authority is shared with the Lord Jesus, and His authority is shared with the church.
Although we may fail, God is never again going to sign this authority over to the devil. Satan is absolutely powerless. He has no ability to do anything in your life except what he deceives you in and what you voluntarily yield to. You may give him authority in your life, you may suffer personally for it, but the God-given authority that was given to man will never again pass solely to the devil. It is now shared between us and the Lord Jesus, and He will remain faithful regardless. You need to recognize that you're the one who now has authority and the power. Satan is fighting you with thoughts, and your weapons are such that you can take these thoughts captive. You can recognize that it's wrong for the devil to oppress you physically and find out what the Scripture has to say about healing. John 8:32 says, "And ye shall know the truth, and the truth shall make you free." You're the one who has power and authority. God has given it to you, and the only thing that keeps you from exercising it is that you haven't yet taken your thoughts captive. You haven't used these spiritual weapons to renew your mind and to realize what you have. It's encouraging to find out that you're one with authority and power.
You are the one Satan trembles at. You shouldn't be trembling at Satan, because you are the one who has God-given power and authority. If you resist the devil, he will flee from you (James 4:7).
Authority and The Great Commission

The King goes to the cross and dies. He completes His role as the Suffering Servant and Lamb who dies for His people (see Isa 53). His blood brings atonement and is the basis for human salvation and cosmic reconciliation (see Col 1:20). His resurrection then vindicates who He is. With Matthew 28, Jesus appears to His disciples and friends. In 28:18 He declares, "All authority has been given to Me in heaven and on earth." The word for "authority" is exousia and refers to the right to rule. Jesus' death, resurrection and ascension result in Jesus having sovereign authority over everything in heaven and earth. This authority also is the basis for the disciples' mandate to "make disciples of all the nations". Jesus' authority is linked with His resurrection and position at the right hand of the Father predicted in Psalm 110:1. It is in this glorious capacity that our Lord Jesus Christ sits today upon the throne of the universe. Jesus' assumption of the Davidic throne on earth is still future (Matt 19:28; 25:31), yet His authority to rule as Messiah is granted to Him. The authority to rule will culminate in a kingdom reign.
The church's primary responsibility in this age is gospel proclamation and making disciples of Jesus Christ. As those who live between the two comings of Jesus the Messiah, the church should avoid two extremes concerning culture and society.
Avoid acting as if the church has no relationship to these areas.


Avoid seeing the church's mission as transforming the world before the return and kingdom of Jesus.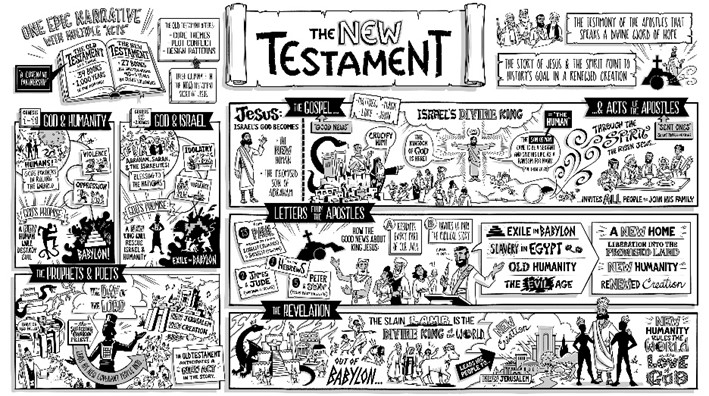 The authority Jesus possesses at the right hand of God is the pattern for how the followers of Jesus will share His throne. Just as Jesus now shares the throne of the Father, when Jesus comes again His followers also will share His throne. The churches that currently face persecution and attacks from Satan will become rulers under the authority of their Messiah. The persecuted ones will become the ruling ones.
The Church

When Malachi, the last of the Old Testament prophets, put down his pen in 420 B.C., the Old Testament Canon was closed. As the centuries rolled by, the Holy Land was conquered by the Persians, then by the Greeks, later by the Syrians, and finally by Rome. Suddenly, after 450 silent years, when there had been no prophet in the land, astonishing news began to spread. There was talk of a prophet whom the Lord had raised up. He was preaching in the wilderness of Judea and was called "John the Baptist" (Matt. 3:1-12).

Thus, after the 450 years of intertestamental silence, the New Testament period had at last begun. Approximately one hundred years elapsed between Christ's birth and John the apostle's writing of the Book of Revelation.

During this period the Savior came and died on the cross for man's sins. The church was formed and began to spread the gospel message throughout the world. The momentous events of the New Testament period are worthy of the most careful study for their historic, exemplary, and spiritual lessons. They include:

The World into Which Christ Came

The Earthly Ministry of Jesus

The Church: Its Beginning and Development

The Evangelistic Missionary Journeys of Paul

The Fall of Jerusalem and the End of the First Century

The World into which Christ came

The coming of the promised Messiah into the world, to die for man's sin, was truly God's great gift to mankind. The circumstances of the waiting world at that time were ideal for the long-awaited arrival of the Christ. Scripture says, "When the fullness of the time had come, God sent forth His Son" (Gal. 4:4).

His birth in Bethlehem prophesied. Herod asked the religious leaders of Israel where Christ was to be born (vv. 3-6). They quoted Micha's prophecy (Mic. 5:2), given seven hundred years before, naming Bethlehem as the place from which the "Ruler in Israel" was to come. The virgin birth of the Savior was also prophesied (Is. 7:14). It should not seem strange to us that the conception of the unique Son of God should occur in a miraculous way.


Childhood of Christ. In His infinite wisdom, God permitted the childhood of Jesus to pass us by quietly. These are "silent years". We are given only the account in Luke's Gospel concerning Jesus, the twelve-year-old boy, who already was.


amazing the rabbis with His questions and answers;


completely conscious of His unique relationship to God the Father;


fully aware of His unique mission (Luke 2:41-52).


All non-biblical stories of the boy Jesus are fabricated and of late origin. Jesus did no miracles as a boy; John's Gospel makes that fact unmistakably clear (John 2:11).


Greek language and culture. The Roman chief captain asked Paul, "Can you speak Greek?" (Acts 21:37). The language of the Western world in New Testament times was Greek (though some early church fathers claimed that Matthew originally wrote his Gospel in Hebrew or Aramaic). The reason was that from 336 to 323 B.C. Alexander the Great conquered Persia, Egypt, and the Middle Eastern world, spreading the Greek language and culture to all conquered areas. In providence of God, this provided an almost universal language that would carry the message of God's salvation in Christ throughout the Mediterranean and Middle Eastern world. That the New Testament was written in Greek, the international language of the day (in contrast to the Old Testament which was written in Hebrew, a language of only one people), it fit God's purpose to form the church out of believers of all kindreds, nations, and peoples (Acts 2:4-12). At this same time, many Greek intellectuals had lost faith in pagan gods and goddesses of Mt. Olympus, and at last were open and longing for a faith that would meet their real needs and answer their questions about life. Such a faith came with Christianity (Acts 17:15-34).


The rule of Augustus Caesar. During the reign of August Caesar (31 B.C.-A.D. 14), the world saw a brief era of peace, unparalleled in history, called the Pax Romana. In the providence of God, it allowed the first missionaries to travel safely throughout the Roman world. At the time of Christ's ministry, Pontius Pilate was governing Judea (including Jerusalem) from his headquarters, the Roman-dominated coastal city of Caesarea.


The rule of Herod. Herod the Great ruled by intrigue and murder from 37 to 4 B.C. He was an Idumean, descended from the Edomites, a people south of the Dead Sea who had often treated the Jews cruelly (Amos 1:11,12). Herod was the great builder of Palestine. He constructed the architectural and engineering marvel of the mountain fortress of Masada (on a cliff thirteen hundred feet high), as well as the Herodium, and the city of Caesarea with its amazing man-made harbor. He also built the three great battle towers by the Jaffa Gate in Jerusalem, the Praetorian Fortress (the Antonia," named for Mark Antony), and the Jewish temple where Christ sometimes taught. He had the temple sanctuary dramatically refaced and then set about rebuilding all of the porticos, walls, courtyards, and outer buildings of the second temple.


But Herod is more commonly known for the series of murders he committed to protect his throne. He murdered Antipater, his eldest son and heir, his wife Mariam, and two more of their sons, and then hunted down the survivors of the previous royal family – the Hasmoneans (descendants of the Maccabees). Satan had a servant well prepared to kill the infants of Bethlehem as he sought to murder the newly born Christ child (Matt. 2:16; cf. Rev. 12:4).


Judaism. The Jewish world of the day was divided into various parties and sects. Chief among these were:


The Pharisees (meaning "separated ones") – scrupulously legalistic in their religion, and seeking righteousness through their works (Matt. 23:2,3).


The Sadducees – religious liberals of the day. They accepted the first five books of Moses, but denied the other writings, the possibility of resurrection, and the existence of angels (Matt. 22:23, 29; Acts 23:8).


The Herodians – members of the Jewish political party that backed the Herodian family reign. They favored home rule and compromised with Rome in order to keep the peace (Mark 3:6).


The high priesthood – descended from the new Hasmonean family line which led the fight against the Syrians 168-165 B. C. The high priest, as the religious ruler of Israel, was always from the tribe of Levi, and headed the Sanhedrin (the important council of seventy). He also had great legal and civil power. Annas and his son-in-law, Caiaphas, were high priests during Christ's ministry, Caiaphas serving at the time of the Crucifixion (John 18:13,14,19-23).

The Earthly Ministry of Jesus

When Jesus rode triumphantly into Jerusalem (vv. 7:11), He was aware that He was making a messianic entry, fulfilling the prophecy of Zechariah 9:9 that the Messiah would someday come into Jerusalem on a donkey. He had sent for the donkey and approved of the messianic shouts of Hosanna ("Save now"- Ps. 118:25,26). He had come to live and die as the Christ, to purchase human redemption (Mark 10:45). Claims that "He was just another Rabbi;" or that "He never claimed to be the Messiah," appear wholly fallacious in light of His claims in the Gospels (e.g., John 8:56-59; 11:23-26).

Christ's ministry may be divided into the following eight chronological periods:

The birth and childhood years. We have the scriptural account of Jesus' virgin birth (Luke 1:26-38; 2:7), the visit of the wise men, the flight into Egypt (Matt. 2:1-23), and His return to dwell in Nazareth. At the age of twelve He astounded the doctors of the Law in the temple (Luke 2:41-47). The other years are not recounted until the beginning of His ministry at the age of thirty (John 2:11).


The ministry of John the Baptist. John was the forerunner of Christ, fulfilling Isaiah 40:2-5. He preached repentance and baptized with water, outwardly signifying the inward cleansing. A fearless preacher, he was imprisoned and later beheaded by Herod (Matt. 14:1-12).


The year of introductions. Jesus' baptism, temptation, and initial ministries in Judea, Jerusalem, Samaria, and Galilee took place during that time.


The year of popularity. This was the year of His great Galilean ministry, when He chose the twelve disciples, delivered the Sermon on the Mount, and worked many miracles around Capernaum. Huge crowds eagerly followed Jesus in those days.


The year of antagonism. After the feeding of the five thousand in Galilee, when He refused to become a political King in opposition to Rome, the huge crowds for the most part deserted Him (John 6:66). He then began to minister in the Caesarea Philippi region to build the faith of His disciples (Matt. 16:13-16). By this time the leaders at Jerusalem were set against Him, so He avoided overexposure in Jerusalem (John 7:1). He still taught, healed, and did many other good works.


The final months. Toward the end of His earthly career, He ministered east of the Jordan River and periodically visited Judea. During this time He raised Lazarus (the brother of Mary and Martha of Bethany) from the dead, thus showing His glory (John 11:1-44).


The last week. This week was filled with drama for heaven and earth: His triumphal entry into Jerusalem; His rebuking of the Pharisees and scribes (Matt. 23:1-36); His Olivet Discourse on future events (Matt. 24:3-51); the Last Supper; His betrayal, arrest, and trials before the high priest, the Sanhedrin, Pilate, Herod, and the mob; and His crucifixion for the sins of mankind on the hill of Calvary (Matt. 26:47-68; 27:33-54).


The risen ministry. After three days He arose from the dead and appeared frequently both in Jerusalem and at the Sea of Galilee, to the twelve disciples and to others, "to whom He also presented Himself alive after His suffering by many infallible proofs, being seen by them during forty days and speaking of the things pertaining to the kingdom of God" (Acts 1:3).

Beginning and Development of His Church

After the crucifixion and resurrection of Christ, His church was formed to take the gospel to the lost of all nations. The church went forward with the Good News, and the Book of Acts records the two chief events: evangelizing the Jews (Acts 1-10) and the Gentiles (Acts 11:28).

The church was established in Jerusalem and Israel through the following phases:


Commissioning. Soon after Christ arose, He commanded that everyone be evangelized in Jerusalem, Samaria, and among all nations (Acts 1:8).


Empowerment. On the Day of Pentecost, the Holy Spirit came upon the Upper Room congregation of about 120 persons and filled them (Acts 1:15) with power to go with the gospel and evangelize (Acts 1:8). They shared their faith with the masses, resulting in approximately three thousand conversions (Acts 2:1-44)).


Witnessing. The apostles preached, performed miracles, suffered persecution, united in prayer for Holy Spirit power, shared their faith and their worldly goods, and rejoiced that they were counted worthy to suffer shame for His name (Acts 3-5).


Serving. The first deacons were chosen by the apostles by the laying of hands and prayer, and were commissioned to serve the tables (Acts 6).


Martyred. Stephen was the first Christian martyred for preaching the gospel of the Lord Jesus Christ (Acts 7).


The church persecuted and scattered. As they went they evangelized, winning souls to Christ. Philip, the first evangelist, conducted a great soul-winning evangelistic crusade (Acts 8 and 9).


Conversion of Paul. Paul, who was then called Saul, was the chief persecutor of the church. He was miraculously converted as he was doing his destructive work (Acts 9).


Opened doors. The Gentiles were brought into the church – beginning a great new era of soul-winning and discipling of the Gentiles (Acts 10 and 11).


Deliverance. Simon Peter was imprisoned by Herod. That night the angel of the Lord led Peter out of prison and to his Christian friends who were assembled as a church in prayer for his deliverance (Acts 12).


The church was established among Gentiles:


By evangelism. The church at Antioch was ministering to the Lord when the Holy Spirit said, "Now separate to Me Barnabas and Saul for the work to which I have called them" (Acts 13:2). On their three missionary journeys, they were led by the Holy Spirit to evangelize in what is today Turkey and Greece (Acts 13-21).


By deliverance from legalists. Paul and Silas journeyed to the Jerusalem council to settle the question once and for all that the Gentiles who had been converted to Christ should not be expected to be burdened with the Jewish ceremonial laws (Acts 15).


By continuing evangelism. Paul & Silas took a second missionary journey in the Greek world (Acts 16-18).


By strengthening. The third missionary journey, again into Turkey and Greece, edified and strengthened the churches (Acts 19-21).


By Paul's chains. Though Paul was imprisoned in Caesarea, the gospel was not bound (Acts 22-26).


By Paul's perilous voyage. Paul was saved to evangelize on his hazardous voyage to Rome (Acts 27).


By divinely opened doors. Paul's imprisonment in Rome gave him the opportunity to witness and win those who were serving in Rome's palace guard (Acts 28).

The Evangelistic Missionary Journeys of Paul

Missions is spreading the Good News that God forgives sinners who trust in Christ. The church sent forth Paul and Barnabas from Antioch of Syria (Rom. 10:15). The first missionaries were sent out by their local church, and were undoubtedly supported by it, as they prayed together seeking God's will for these ministries (vv. 1-3). The apostle Paul and his associates endured extraordinary labors and poverty to give others the message (2 Cor. 11:23-29). There may never have been another who labored so arduously, so long, and under such hardships, with such astonishing success as the brilliant apostle Paul.
Paul's calling and commission (vv. 1-3). Paul and Barnabas were called to evangelize the Gentiles.

First missionary journey (Acts 13 and 14).

Cyprus – First they evangelized in Barnabas's native land. Saul became known by his Greek name, Paul. John Mark deserted them and returned to Jerusalem.

Pisidia (Turkey) – Next, they evangelized Paul's native land. They preached the gospel in Antioch, Iconium, Lystra, and Derbe. They were persecuted everywhere, but some believed.

They returned to Antioch of Syria and reported to the church (Acts 14:24-28).

Jerusalem council (Acts 15).

Paul and Barnabas participated with the leaders of the church in seeking God's will regarding the relation of ceremonial law to the Gentiles.

The question of circumcision and ceremonial law was solved at the Jerusalem council, decreeing that it was God's will that Gentiles be fully and equally admitted into the church, without having the duty to obey the Jewish ceremonial laws (Acts 15:22-29).

Secondary missionary journey (Acts 16:1-18:22).

Paul and Barnabas separated, but the work continued. Paul took Silas on the second journey.

The churches started on the first journey were revisited (Acts 15:41). This is our example to nurture new converts.

In a vision, Paul was guided to enter Europe (Acts 16:9,10). Lydia was the first convert in Europe (Acts 16:14).

They witnessed in the great Greek cities of Philippi, Thessalonica, Athens, Corinth, and Ephesus.

They returned to Antioch of Syria and informed the church of their journeys.

Third missionary journey (Acts 18:23-21:16).

The churches which had been started by Paul were revisited.

Paul taught in Ephesus for three years and displayed flexibility in staying at a location when opportunity or need arose.

He revisited various Greek cities as well as Jerusalem.

Witnessed in Jerusalem (Acts 21:17-23:32). God gave Paul opportunity to witness to the high priest and the Sanhedrin.

Caesarean Imprisonment (Acts 23:31- 26:32). God gave Paul the opportunity to witness to rulers of the land: the governors Felix and Festus, and King Agrippa II.

Voyage to Rome (Acts 27). God preserved His servants to continue their work.

Roman imprisonment (Acts 28:16-31). God gave Paul opportunity to witness to the Jewish community in Rome and to many great personages of the Roman Empire.

Final travels (Rom. 15:24). Paul expressed his desire to witness in Spain.

Second Roman imprisonment and martyrdom. The writings of the earliest church fathers are uniform in their testimony that Paul was martyred in Rome by Nero.

Jerusalem's Fall & the End of the 1st Century

Hebrews 3:12-19 (NKJV) 12  Beware, brethren, lest there be in any of you an evil heart of unbelief in departing from the living God; 13  but exhort one another daily, while it is called "Today," lest any of you be hardened through the deceitfulness of sin. 14  For we have become partakers of Christ if we hold the beginning of our confidence steadfast to the end, 15  while it is said: "Today, if you will hear His voice,
Do not harden your hearts as in the rebellion."
16  For who, having heard, rebelled? Indeed, was it not all who came out of Egypt, led by Moses? 17  Now with whom was He angry forty years? Was it not with those who sinned, whose corpses fell in the wilderness? 18  And to whom did He swear that they would not enter His rest, but to those who did not obey? 19  So we see that they could not enter in because of unbelief.

This passage speaks of those who wandered forty years in the wilderness and, because of their lack of faith, never entered God's rest in Canaan. Similarly, after the Jerusalem religious leaders rejected Christ, God gave them forty years of apostolic preaching to change their minds and accept Him. When the majority did not believe, approximately forty years after the Crucifixion, the Romans destroyed Jerusalem (A.D. 70).

In Hebrews 10:25 it says, "Not forsaking the assembling of ourselves together." The church is an assembly of people coming together for the purpose of looking to Jesus, praising the Lord, to receive direction from the Lord, to follow through with that direction. The primary purpose of the early New Testament church was edification. They met together for the purpose of building each other up in the faith.

The New Covenant

Below is a summary of the Kingdom program in the New Testament:
As the NT era opens expectation is heavy concerning the coming of Israel's Messiah, even among some Gentiles.

Jewish believers expected literal fulfilment of the Abrahamic and Davidic Covenants including restoration and protection for Israel.

In fulfilment of OT prophecy John the Baptist is the forerunner of the Messiah and proclaimer of the nearness of the kingdom.

The announcement of Jesus the Messiah is connected with His coming rule from the throne of David over Israel.

Jesus the Messiah arrives.

After withstanding temptation from Satan Jesus proclaims the nearness of the kingdom to the people of Israel.

The kingdom John and Jesus announce as near is the prophesied kingdom of the OT prophets, including its spiritual and physical elements; its coming is conditioned on Israel's repentance.

With His Sermon on the Mount, Jesus reveals the righteous requirements needed for those who would enter the kingdom.

Jesus' miracles and exorcisms are demonstrations of kingdom authority, glimpses of kingdom conditions, and prove that Jesus is the Son of David.

Jesus delegates kingdom authority to His disciples so they can proclaim the nearness of the kingdom to the cities of Israel.

The kingdom message proclaimed by John the Baptist, Jesus, and the apostles is resisted by the cities of Israel.

The leaders of Israel also reject Jesus, attributing His works done in the Holy Spirit to Satan, and commit personal and national blasphemy against the Holy Spirit.

With rejection from the cities and leadership of Israel, Jesus and His apostles withdraw from public proclamation of the nearness of the kingdom to Israel; Jesus begins to speak in parables and hides the truth from those who will not believe and gives more truth to those who do believe.

Jesus offers new truths in "mysteries" concerning the kingdom, which describe conditions between His first and second comings; the main thrust of these kingdom parables is that the spread of the kingdom message and citizens will occur in this present evil age until the kingdom arrives with Jesus' second coming.

With opposition from the leaders evident, Jesus shifts His attention from the nearness of the kingdom to preparing His disciples for His soon coming death.

On the day of His entry into Jerusalem Jesus formally presents himself as King of Israel but mourns over Israel's unbelief and states that judgment will come instead of peace; He also says He will not be seen by Jerusalem again until the people cry out to Him with words of blessing.

Jesus the Messiah is crucified but provides atonement for sin as the Suffering Servant of the Lord, lays the foundation for the kingdom, and establishes the New Covenant in His blood.

After His resurrection Jesus receives all authority in heaven and earth.

Jesus spends forty days instructing His apostles concerning the kingdom of God; the apostles expect a restoration of the kingdom to Israel but are told by Jesus they cannot know the timing of its coming but instead are to focus on universal gospel proclamation.

Jesus ascends to the right hand of God in fulfilment of Psalm 110:1 where He baptizes believers with the Holy Spirit.

Peter presents the kingdom to the leaders of Israel telling them repentance can lead to forgiveness, which will then lead to the return of Jesus and the kingdom of God.

While focusing on his ministry to Gentiles Paul, at the end of Acts, still meets with Jewish leaders presenting the kingdom of God to them.

The focus of the epistles and Revelation 2-3 is on how the church should conduct itself in this age and how the coming kingdom is motivation for faithful service now as the church faces tribulations from Satan and the world.

The book of Revelation describes conditions of the Day of the Lord leading up to the coming of Jesus and the kingdom of God.

The return of Jesus begins a thousand-year reign of Jesus on the earth during a time when Satan is bound and Jesus' saints are resurrected and rewarded.

The millennial reign of Jesus merges into the eternal kingdom of the Father.

The eternal kingdom consists of the nations serving God, seeing His face, and bringing their cultural contributions to the New Jerusalem.

Eighteen Mysteries of Scripture Revealed:

The kingdom of heaven and the kingdom of God (Mt. 13:11; Mk. 4:11; Lk. 8:10)


Matthew 13:11 (NKJV)  He answered and said to them, "Because it has been given to you to know the mysteries of the kingdom of heaven, but to them it has not been given.
Mark 4:11 (NKJV)  And He said to them, "To you it has been given to know the mystery of the kingdom of God; but to those who are outside, all things come in parables,
Luke 8:10 (NKJV)  And He said, "To you it has been given to know the mysteries of the kingdom of God, but to the rest it is given in parables, that 'Seeing they may not see,
And hearing they may not understand.'


Israel's blindness (Rom. 11:25)


Romans 11:25 (NKJV)  For I do not desire, brethren, that you should be ignorant of this mystery, lest you should be wise in your own opinion, that blindness in part has happened to Israel until the fullness of the Gentiles has come in.


Salvation in Christ (Rom. 16:25)


Romans 16:25 (NKJV)  Now to Him who is able to establish you according to my gospel and the preaching of Jesus Christ, according to the revelation of the mystery kept secret since the world began


The wisdom of God (1Cor. 2:7)


1 Corinthians 2:7 (NKJV)  But we speak the wisdom of God in a mystery, the hidden wisdom which God ordained before the ages for our glory,


The doctrines of God (1Cor. 4:1; Col. 2:2; 1Tim. 3:16)


1 Corinthians 4:1 (NKJV)  Let a man so consider us, as servants of Christ and stewards of the mysteries of God.
Colossians 2:2 (NKJV)  that their hearts may be encouraged, being knit together in love, and attaining to all riches of the full assurance of understanding, to the knowledge of the mystery of God, both of the Father and of Christ,
1 Timothy 3:16 (NKJV)  And without controversy great is the mystery of godliness: God was manifested in the flesh, Justified in the Spirit, Seen by angels, Preached among the Gentiles, Believed on in the world, Received up in glory.


The gospel (Eph. 6:19)


Ephesians 6:19 (NKJV)  and for me, that utterance may be given to me, that I may open my mouth boldly to make known the mystery of the gospel,


Gift of knowledge (1Cor. 13:2)


1 Corinthians 13:2 (NKJV)  And though I have the gift of prophecy, and understand all mysteries and all knowledge, and though I have all faith, so that I could remove mountains, but have not love, I am nothing.


Speaking in tongues (1Cor. 14:2)


1 Corinthians 14:2 (NKJV)  For he who speaks in a tongue does not speak to men but to God, for no one understands him; however, in the spirit he speaks mysteries.


The rapture of the church (1Cor. 15:23,51-58; Jn. 14:1-3; 1Th. 4:13-16)


1 Corinthians 15:23 (NKJV)  But each one in his own order: Christ the first fruits, afterward those who are Christ's at His coming.
1 Corinthians 15:51-58 (NKJV) 51  Behold, I tell you a mystery: We shall not all sleep, but we shall all be changed– 52  in a moment, in the twinkling of an eye, at the last trumpet. For the trumpet will sound, and the dead will be raised incorruptible, and we shall be changed. 53  For this corruptible must put on incorruption, and this mortal must put on immortality. 54  So when this corruptible has put on incorruption, and this mortal has put on immortality, then shall be brought to pass the saying that is written: "Death is swallowed up in victory."
55  "O Death, where is your sting?
O Hades, where is your victory?"
56  The sting of death is sin, and the strength of sin is the law. 57  But thanks be to God, who gives us the victory through our Lord Jesus Christ. 58  Therefore, my beloved brethren, be steadfast, immovable, always abounding in the work of the Lord, knowing that your labor is not in vain in the Lord.
John 14:1-3 (NKJV) 1  "Let not your heart be troubled; you believe in God, believe also in Me. 2  In My Father's house are many mansions; if it were not so, I would have told you. I go to prepare a place for you. 3  And if I go and prepare a place for you, I will come again and receive you to Myself; that where I am, there you may be also.
1 Thessalonians 4:13-16 (NKJV) 13  But I do not want you to be ignorant, brethren, concerning those who have fallen asleep, lest you sorrow as others who have no hope. 14  For if we believe that Jesus died and rose again, even so God will bring with Him those who sleep in Jesus. 15  For this we say to you by the word of the Lord, that we who are alive and remain until the coming of the Lord will by no means precede those who are asleep. 16  For the Lord Himself will descend from heaven with a shout, with the voice of an archangel, and with the trumpet of God. And the dead in Christ will rise first.


God's will (Eph. 1:9)


Ephesians 1:9 (NKJV)  having made known to us the mystery of His will, according to His good pleasure which He purposed in Himself,


The church (Eph. 3:1-9; 5:32)


Ephesians 3:1-9 (NKJV) 1  For this reason I, Paul, the prisoner of Christ Jesus for you Gentiles– 2  if indeed you have heard of the dispensation of the grace of God which was given to me for you, 3  how that by revelation He made known to me the mystery (as I have briefly written already, 4  by which, when you read, you may understand my knowledge in the mystery of Christ), 5  which in other ages was not made known to the sons of men, as it has now been revealed by the Spirit to His holy apostles and prophets: 6  that the Gentiles should be fellow heirs, of the same body, and partakers of His promise in Christ through the gospel, 7  of which I became a minister according to the gift of the grace of God given to me by the effective working of His power. 8  To me, who am less than the least of all the saints, this grace was given, that I should preach among the Gentiles the unsearchable riches of Christ, 9  and to make all see what is the fellowship of the mystery, which from the beginning of the ages has been hidden in God who created all things through Jesus Christ;
Ephesians 5:32 (NKJV)  This is a great mystery, but I speak concerning Christ and the church.


Christ in people (Col. 1:26-27)


Colossians 1:26-27 (NKJV) 26  the mystery which has been hidden from ages and from generations, but now has been revealed to His saints. 27  To them God willed to make known what are the riches of the glory of this mystery among the Gentiles: which is Christ in you, the hope of glory.


Doctrines of Christ (Col. 4:3)


Colossians 4:3 (NKJV)  meanwhile praying also for us, that God would open to us a door for the word, to speak the mystery of Christ, for which I am also in chains,


Spirit of lawlessness (2Th. 2:7)


2 Thessalonians 2:7 (NKJV)  For the mystery of lawlessness is already at work; only He who now restrains will do so until He is taken out of the way.


Faith of the gospel (1Tim. 3:9)


1 Timothy 3:9 (NKJV)  holding the mystery of the faith with a pure conscience.


Seven candlesticks (Rev. 1:20)


Revelation 1:20 (NKJV)  The mystery of the seven stars which you saw in My right hand, and the seven golden lampstands: The seven stars are the angels of the seven churches, and the seven lampstands which you saw are the seven churches.


God's delay in casting out of Satan (Rev. 10:7; 12:7-17)


Revelation 10:7 (NKJV)  but in the days of the sounding of the seventh angel, when he is about to sound, the mystery of God would be finished, as He declared to His servants the prophets.
Revelation 12:7-17 (NKJV) 7  And war broke out in heaven: Michael and his angels fought with the dragon; and the dragon and his angels fought, 8  but they did not prevail, nor was a place found for them in heaven any longer. 9  So the great dragon was cast out, that serpent of old, called the Devil and Satan, who deceives the whole world; he was cast to the earth, and his angels were cast out with him. 10  Then I heard a loud voice saying in heaven, "Now salvation, and strength, and the kingdom of our God, and the power of His Christ have come, for the accuser of our brethren, who accused them before our God day and night, has been cast down. 11  And they overcame him by the blood of the Lamb and by the word of their testimony, and they did not love their lives to the death. 12  Therefore rejoice, O heavens, and you who dwell in them! Woe to the inhabitants of the earth and the sea! For the devil has come down to you, having great wrath, because he knows that he has a short time." 13  Now when the dragon saw that he had been cast to the earth, he persecuted the woman who gave birth to the male Child.
14  But the woman was given two wings of a great eagle, that she might fly into the wilderness to her place, where she is nourished for a time and times and half a time, from the presence of the serpent. 15  So the serpent spewed water out of his mouth like a flood after the woman, that he might cause her to be carried away by the flood. 16  But the earth helped the woman, and the earth opened its mouth and swallowed up the flood which the dragon had spewed out of his mouth. 17  And the dragon was enraged with the woman, and he went to make war with the rest of her offspring, who keep the commandments of God and have the testimony of Jesus Christ.


Mystery Babylon (Rev. 17:5,7)


Revelation 17:5 (NKJV)  And on her forehead a name was written: MYSTERY, BABYLON THE GREAT, THE MOTHER OF HARLOTS AND OF THE ABOMINATIONS OF THE EARTH.
Revelation 17:7 (NKJV)  But the angel said to me, "Why did you marvel? I will tell you the mystery of the woman and of the beast that carries her, which has the seven heads and the ten horns.

The kingdom program in Acts:

In the forty days prior to Jesus' ascension the primary focus of Jesus' instruction to the disciples was the kingdom of God (Acts 1:3).


Just prior to Jesus' ascension the disciples of Jesus expected the restoration of the kingdom to the nation Israel (Acts 1:6).


Jesus affirms their understanding but says they were not to know the timing of the restoration of the kingdom to Israel; instead, their concern was to be proclamation of the gospel to the world (Acts 1:7-8).


Peter and the apostles affirmed to the Jewish nation that Jesus was the Messiah of Israel who had ascended to the right hand of the Father (Acts 2).


Peter told the people of Jerusalem that repentance and belief in Jesus would lead to forgiveness of sins, the coming of Jesus, and the restoration of all things that the Old Testament prophets predicted (Acts 3:19-25).


Acts 3:19-25 (NKJV) 19  Repent therefore and be converted, that your sins may be blotted out, so that times of refreshing may come from the presence of the Lord, 20  and that He may send Jesus Christ, who was preached to you before, 21  whom heaven must receive until the times of restoration of all things, which God has spoken by the mouth of all His holy prophets since the world began. 22  For Moses truly said to the fathers, 'The LORD your God will raise up for you a Prophet like me from your brethren. Him you shall hear in all things, whatever He says to you.
23  And it shall be that every soul who will not hear that Prophet shall be utterly destroyed from among the people.'
24  Yes, and all the prophets, from Samuel and those who follow, as many as have spoken, have also foretold these days. 25  You are sons of the prophets, and of the covenant which God made with our fathers, saying to Abraham, 'And in your seed all the families of the earth shall be blessed.'


As the apostles proclaimed the Gospel of Jesus they were proclaiming the kingdom (Acts 8:12).


Suffering for Jesus shows one worthy of the kingdom (Acts 14:22).


Part of the kingdom program was in operation as Gentiles were being saved as they believed in the Messiah (Acts 15).


The kingdom of God was still proclaimed to the Jewish people (Acts 19:8; 28:23).

Crowns for Believers

Matthew 5:12 (NKJV)  Rejoice and be exceedingly glad, for great is your reward in heaven, for so they persecuted the prophets who were before you.

There is a vast difference in the doctrine of salvation for the lost, and the doctrine of rewards for the saved. Salvation is "the gift of God, not of works".
Ephesians 2:8-9 (NKJV) 8  For by grace you have been saved through faith, and that not of yourselves; it is the gift of God, 9  not of works, lest anyone should boast.

Salvation is received by faith in the finished work of the Lord Jesus Christ.
John 3:36 (NKJV)  He who believes in the Son has everlasting life; and he who does not believe the Son shall not see life, but the wrath of God abides on him."

Rewards are according to the works of the believer.
Matthew 16:27 (NKJV)  For the Son of Man will come in the glory of His Father with His angels, and then He will reward each according to his works.

A most revealing Scripture concerning rewards is found in 1 Corinthians 3:8-15.
1 Corinthians 3:8-15 (NKJV) 8  Now he who plants and he who waters are one, and each one will receive his own reward according to his own labor. 9  For we are God's fellow workers; you are God's field, you are God's building. 10  According to the grace of God which was given to me, as a wise master builder I have laid the foundation, and another builds on it. But let each one take heed how he builds on it. 11  For no other foundation can anyone lay than that which is laid, which is Jesus Christ. 12  Now if anyone builds on this foundation with gold, silver, precious stones, wood, hay, straw, 13  each one's work will become clear; for the Day will declare it, because it will be revealed by fire; and the fire will test each one's work, of what sort it is. 14  If anyone's work which he has built on it endures, he will receive a reward. 15  If anyone's work is burned, he will suffer loss; but he himself will be saved, yet so as through fire.

Every believer will be rewarded according to his own labor (v.8). We do not labor for salvation.


"We are God's fellow workers" (v.9)-not for salvation, but for rewards.


The believer is to build on the Lord Jesus Christ, the only foundation (v.11).


The believer has a choice of two main types of building materials: "gold, silver, precious stones"-eternal materials; or "wood, hay, straw"-temporal materials.

2 Corinthians 4:18 (NKJV)  while we do not look at the things which are seen, but at the things which are not seen. For the things which are seen are temporary, but the things which are not seen are eternal.

The believer who builds on Christ with eternal materials, "gold, silver, precious stones," will receive a reward. Those who build on Christ with temporal materials, "wood, hay, straw," will receive no reward. The "wood, hay, straw" works will be destroyed at the "judgment seat of Christ", and the believer will suffer loss – not the loss of salvation, but the loss of eternal rewards.
2 Corinthians 5:10 (NKJV)  For we must all appear before the judgment seat of Christ, that each one may receive the things done in the body, according to what he has done, whether good or bad.

Some believers will be ashamed at the judgment seat of Christ – ashamed of their works of "wood, hay, straw."
1 John 2:28 (NKJV)  And now, little children, abide in Him, that when He appears, we may have confidence and not be ashamed before Him at His coming.

The Crown of Life

James 1:12 (NKJV)  Blessed is the man who endures temptation; for when he has been approved, he will receive the crown of life which the Lord has promised to those who love Him.

This reward could be called the crown of those who love God. Upon examination of the above verse, we discover that through his love for God the believer finds strength to overcome temptation and endure trials. Paul said, "We also glory in tribulations." Do we today glory in tribulations? We can do so only if the "love of God has been poured out in our hearts by the Holy Spirit". Without love for God in the heart of the believer, trials can cause him to become bitter and critical; he may lose the "crown of life" (v.12).
Romans 5:3-5 (NKJV) 3  And not only that, but we also glory in tribulations, knowing that tribulation produces perseverance;
4  and perseverance, character; and character, hope.
5  Now hope does not disappoint, because the love of God has been poured out in our hearts by the Holy Spirit who was given to us.

All believers have eternal life, but not all believers will be rewarded with the "crown of life."
John 3:15-16 (NKJV) 15  that whoever believes in Him should not perish but have eternal life.
16  For God so loved the world that He gave His only begotten Son, that whoever believes in Him should not perish but have everlasting life.

This crown will be given to those who are "faithful until death" (Rev. 2:10).
Revelation 2:10 (NKJV)  Do not fear any of those things which you are about to suffer. Indeed, the devil is about to throw some of you into prison, that you may be tested, and you will have tribulation ten days. Be faithful until death, and I will give you the crown of life.

To receive the "crown of life," the believer must love the Lord more than his own life. "For whoever desires to save his life [live for self] will lose it, but whoever who loses his life for My sake and the gospel's [live for Christ at all cost] will save it" (Mark 8:35). This reward will be given to those who live for Christ, and endure temptations, in the power of the love of God (1 Cor. 10:13).
The Crown Imperishable

1 Corinthians 9:24-27 (NKJV) 24  Do you not know that those who run in a race all run, but one receives the prize? Run in such a way that you may obtain it.
25  And everyone who competes for the prize is temperate in all things. Now they do it to obtain a perishable crown, but we for an imperishable crown.
26  Therefore I run thus: not with uncertainty. Thus I fight: not as one who beats the air. 27  But I discipline my body and bring it into subjection, lest, when I have preached to others, I myself should become disqualified.

Paul uses the Greek games to illustrate the spiritual race of the believer. They ran to win a "perishable crown, but we for an imperishable crown" (v.25).No young man could compete in the games unless he was a Greek citizen, born of Greek parents. No unsaved person can participate in the service of the Lord for rewards; only those born of God are eligible (John 3:3).
Just as the athlete must deny himself many gratifications of the body, so the believer must "discipline [his] body and bring it into subjection" or he will be "disqualified" (v.27). He will not lose his salvation, but he can lose his rewards.
The Greek games had rigid rules for all participants. The New Testament contains rules for believers who would enter the spiritual race to win the "imperishable crown."
The believer must deny himself anything that would weigh him down and hold him back (Heb. 12:1).


The believer must keep his eyes fixed on Christ, not looking to the right or left (Heb. 12:2).


The believer must find his strength in the Lord (Eph. 6:10-18).


The believer must place his all on the altar of the Lord (Rom. 12:1,2).


The believer must, by faith, refuse anything that would impede spiritual progress (Heb. 11:24-29).

Do not be a spiritual speculator. Enter the race and run to win the "imperishable crown."
The Crown of Rejoicing

1 Thessalonians 2:19-20 (NKJV) 19  For what is our hope, or joy, or crown of rejoicing? Is it not even you in the presence of our Lord Jesus Christ at His coming? 20  For you are our glory and joy.

The "crown of rejoicing" (v.19) is the soul winner's crown. The greatest work you are privileged to do for the Lord is to bring others to a knowledge of Christ as Savior. Much of your joy in heaven will be determined by the souls you have had a part in bringing to Christ. Paul tells the Thessalonian believers that they are his "glory and joy," now and when Jesus comes.
The Bible also gives these reasons for winning souls:

It is wise to win souls to Christ.


Proverbs 11:30 (NKJV)  The fruit of the righteous is a tree of life, And he who wins souls is wise.


It is an attack on sin to win souls to Christ.


James 5:20 (NKJV)  let him know that he who turns a sinner from the error of his way will save a soul from death and cover a multitude of sins.


It is a cause for joy in heaven to win souls to Christ.


Luke 15:10 (NKJV)  Likewise, I say to you, there is joy in the presence of the angels of God over one sinner who repents."


Soul winners will shine as the stars forever.


Daniel 12:3 (NKJV)  Those who are wise shall shine Like the brightness of the firmament, And those who turn many to righteousness Like the stars forever and ever.

How you can win souls to Christ:

Witness with your life – live so that others may see Christ in you.


2 Corinthians 3:2 (NKJV)  You are our epistle written in our hearts, known and read by all men;
Galatians 2:20 (NKJV)  I have been crucified with Christ; it is no longer I who live, but Christ lives in me; and the life which I now live in the flesh I live by faith in the Son of God, who loved me and gave Himself for me.


Witness with your mouth, trusting the Holy Spirit to give power to the spoken word.


Acts 1:8 (NKJV)  But you shall receive power when the Holy Spirit has come upon you; and you shall be witnesses to Me in Jerusalem, and in all Judea and Samaria, and to the end of the earth."


Witness by tithes and offerings, so that others may preach Christ, and you will have "fruit [reward] that abounds to your account".


Philippians 4:15-19 (NKJV) 15  Now you Philippians know also that in the beginning of the gospel, when I departed from Macedonia, no church shared with me concerning giving and receiving but you only. 16  For even in Thessalonica you sent aid once and again for my necessities. 17  Not that I seek the gift, but I seek the fruit that abounds to your account. 18  Indeed I have all and abound. I am full, having received from Epaphroditus the things sent from you, a sweet-smelling aroma, an acceptable sacrifice, well pleasing to God. 19  And my God shall supply all your need according to His riches in glory by Christ Jesus.
2 Corinthians 9:6 (NKJV)  But this I say: He who sows sparingly will also reap sparingly, and he who sows bountifully will also reap bountifully.

God has promised that your labor will not be in vain in the Lord (1 Cor. 15:58). The soul winner will not rejoice alone – all of heaven will rejoice with him when he receives the "crown of rejoicing" (v.19).
The Crown of Righteousness

2 Timothy 4:5-8 (NKJV) 5  But you be watchful in all things, endure afflictions, do the work of an evangelist, fulfill your ministry. 6  For I am already being poured out as a drink offering, and the time of my departure is at hand. 7  I have fought the good fight, I have finished the race, I have kept the faith. 8  Finally, there is laid up for me the crown of righteousness, which the Lord, the righteous Judge, will give to me on that Day, and not to me only but also to all who have loved His appearing.

The "crown of righteousness" (v.8) is a reward. It is not to be confused with the "righteousness of God" which the believer receives when he becomes a Christian; for at that time, the believer is to "become the righteousness of God in Him".
2 Corinthians 5:21 (NKJV)  For He made Him who knew no sin to be sin for us, that we might become the righteousness of God in Him.

This righteousness is imputed to all those saved by grace through faith. The "crown of righteousness" is a reward to be earned by the saved. If the believer looks for, and loves, the second coming of Christ, it will affect his whole life. Look at the dynamic impact this truth had on the life of the apostle Paul. He could say:
"I have fought the good fight" (v.7; cf. 15:32). He fought a spiritual battle throughout his Christian life, and won. He never surrendered to the enemies of righteousness (Eph. 6:12).


Ephesians 6:12 (NKJV)  For we do not wrestle against flesh and blood, but against principalities, against powers, against the rulers of the darkness of this age, against spiritual hosts of wickedness in the heavenly places.


"I have finished the race" (v.7). He had a course to travel, and he did not detour the hard places; neither did he look back. He finished his course with his eyes fixed on Christ.


Luke 9:62 (NKJV)  But Jesus said to him, "No one, having put his hand to the plow, and looking back, is fit for the kingdom of God."


Philippians 1:6 (NKJV)  being confident of this very thing, that He who has begun a good work in you will complete it until the day of Jesus Christ;


"I have kept the faith" (v.7). He preached the "whole counsel of God" – never betraying any of the great doctrines. The apostle looked ahead to the "judgment seat of Christ" (2 Cor. 5:10) where the "crown of righteousness" will be given to those who "have loved His appearing" (v.8). How important it is for the believer to look with a heart of love for the second coming of our Lord and Savior Jesus Christ, that he may receive the" crown of righteousness" (v.8).


Acts 20:24-31 (NKJV) 24  But none of these things move me; nor do I count my life dear to myself, so that I may finish my race with joy, and the ministry which I received from the Lord Jesus, to testify to the gospel of the grace of God. 25  And indeed, now I know that you all, among whom I have gone preaching the kingdom of God, will see my face no more. 26  Therefore I testify to you this day that I am innocent of the blood of all men.
27  For I have not shunned to declare to you the whole counsel of God. 28  Therefore take heed to yourselves and to all the flock, among which the Holy Spirit has made you overseers, to shepherd the church of God which He purchased with His own blood. 29  For I know this, that after my departure savage wolves will come in among you, not sparing the flock. 30  Also from among yourselves men will rise up, speaking perverse things, to draw away the disciples after themselves. 31  Therefore watch, and remember that for three years I did not cease to warn everyone night and day with tears.

The Crown of Glory

1 Peter 5:2-4 (NKJV) 2  Shepherd the flock of God which is among you, serving as overseers, not by compulsion but willingly, not for dishonest gain but eagerly; 3  nor as being lords over those entrusted to you, but being examples to the flock; 4  and when the Chief Shepherd appears, you will receive the crown of glory that does not fade away.

The "crown of glory" is a special reward for faithful, obedient, God-called people. They will receive this reward when the "Chief Shepherd appears." It is eternal; it "does not fade away". Every believer may share in the pastor's "crown of glory." "He who receives a prophet in the name of a prophet shall receive a prophet's reward" (Matt. 10:41).
Support your faithful God-called pastor by praying for him and encouraging him in the work of the Lord. Remember tithes and offerings. God will reward you for supporting His chosen servant by allowing you to share in your pastor's reward.
Ephesians 4:1 (NKJV)  I, therefore, the prisoner of the Lord, beseech you to walk worthy of the calling with which you were called,

Walk worthy of your calling (Eph. 4:1).


Walk in all lowliness or humility of mind (Eph. 4:2; Acts 20:19; 1Pet. 5:5).


Walk in meekness (Eph. 4:2; Mt. 5:5).


Walk in longsuffering (Eph. 4:2; 1Cor. 13).


Forbearing one another in love (Eph. 4:3).


Endeavoring to keep the unity of the Spirit in the bond of peace (Eph. 4:3).

Citizens of the Kingdom

The Sermon on the Mount is the King's manifesto of His kingdom principles, as taught by our coming King. When the King delivered this, the greatest of all sermons, His words must have been strange in the ears of His disciples, and amazing to the listening multitudes.
Many believed that John the Baptist was the forerunner of the Messiah. They had heard him declare, "I am 'The voice of one crying in the wilderness: "Make straight the way of the LORD," 'as the prophet Isaiah said" (John 1:23; Is. 40:3). To prepare the way for the coming of the King, John preached repentance. He said, "Repent, for the kingdom of heaven is at hand!" (Matt. 3:2). After the Lord's baptism by John (in the river Jordan), His temptation in the wilderness, and the imprisonment of John the Baptist, Jesus began His public ministry (Mark 1:14,15). He preached repentance, saying, "Repent, for the kingdom of heaven is at hand" (Matt. 4:17). The King could not set up His kingdom in earth because national Israel would not repent and believe the good news of the kingdom.
John the apostle said, "He came to His own [Israel}, and His own did not receive Him. Bust as many as received Him, to them He gave the right to become children of God, to those who believe in His name" (John 1:11,12). Some did repent and receive Him by faith, as their Messiah. But the national leaders of Israel, and the Romans, nailed Him to the cross. Jesus, knowing that He was to die for the sins of the world, promised to come again and establish God's kingdom on earth, and to sit on the throne of His glory (Matt. 25:31), which is the throne of His father David, according to the flesh.
God made an unconditional promise to King David when He said, "I will set upon your throne the fruit [descendants] of your body" (P. 132:11). God promised King David that He would be born of His descending line according to the flesh (Rom. 1:3). He, the God-Man, would be seated on the throne of David (Acts 2:30; cf. Is. 9:6,7).
The King could not establish His kingdom on earth because Israel would not repent and accept Messiah as their King. We do not have the kingdom of heaven on earth, but we have the King's manifesto. Even though we are not living in the kingdom, we are to practice kingdom life in this corrupt world system. The Beatitudes reveal the secret of true happiness. Study them with an open heart, a receptive mind, and a humble spirit, praying always. Remember that happiness is not found in the things you have, but in what you are in Christ Jesus. "Therefore, if anyone is in Christ, he is a new creation; old things have passed away; behold, all things have become new" (2 Cor. 5:17). In this verse we have old things and new things. The old things are the fruits of the natural man (1 Cor. 2:14); the new things are the fruits of the new man in Christ.
Happiness is one of the new things we find in Christ our King when we practice daily His kingdom manifesto.
The Poor in Spirit (Matthew 5:1-3)

"Blessed are the poor in spirit, for theirs is the kingdom of heaven" (v.3). The poor in spirit are empty of all spiritual pride; they know that spiritual pride is the spirit of this age of which Satan is god (2 Cor. 4:4).
To be poor in spirit is to have "a contrite and humble spirit" (Is. 57:15) – to be conscious of your unworthiness. Peter demonstrated this quality when he fell at the knees of Jesus saying, "Depart from me, for I am a sinful man, O Lord!" (Luke 5:1-11). The Pharisee of the parable boasted in his religious pride, but the contrite and humble tax collector was truly "poor in spirit" (Luke 18:9-14).
The Mourners (Matthew 5:4)

"Blessed are those who mourn, for they shall be comforted" (v.4). This paradoxical beatitude can be understood only by the believer. How can a bereaved person be blessed amid grief? Because he knows that "weeping may endure for a night, but joy comes in the morning" (Ps. 30:5), that God has promised to comfort the mourner in this life and in the life to come. Heaven's joys will abundantly compensate for earth's sorrows.
We should also mourn for souls. Paul grieved for his "countrymen according to the flesh," and longed desperately for their salvation (Rom. 9:1-5). Some lost souls lament their life of sin when they repent and believe on the Lord Jesus Christ as their personal Savior. The penitent publican "beat his breast, saying, God be merciful to me a sinner!'" (Luke 18:13). Mourning is a part of repentance. "Blessed are those who mourn, for they shall be comforted."
The Meek (Matthew 5:5).

"Blessed are the meek [gentle], for they shall inherit the earth" (v. 5; Ps. 37:11). The philosophy of the world is the exact opposite of this beatitude. People of the world consider the meek person to be weak and cowardly, a Caspar Milquetoast to be treated with contempt. The most gentle, meek, humble person that ever lived on this earth was the Lord Jesus Christ, who said, "I am gentle and lowly [humble] in heart, and you [that come to Me] will find rest for your souls" (Matt. 11:28-30). This gentle Son of God entered the temple as the Jews were preparing for the Passover and the Feast of Unleavened Bread (Ex. 12:1-51). He overturned the tables of the moneychangers, and with a whip of cords He drove out those who sold oxen, sheep, and doves in the sanctity of the temple. He said, "Do not make My Father's house a house of merchandise!" (John 2:13-16). Was this the act of a weak and cowardly man? Yet He is the Man who said, "Blessed are the meek, for they shall inherit the earth" (v.5).
To know the characteristics of a truly meek (gentle) person, study this passage: "Therefore I ask that you do not lose heart at my tribulations to you, which is your glory. For this reason I bow my knees to the Father of our Lord Jesus Christ, from whom the whole family in heaven and earth is named, that He would grant you, according to the riches of His glory, to be strengthened with might through His Spirit in the inner man, that Christ may dwell in your hearts through faith; that you, being rooted and grounded in love, may be able to comprehend with all the saints what is the width and length and depth and height – to know the love of Christ which passes knowledge; that you may be filled with all the fullness of God" (Eph. 3:13-19).
No, the meek are not weak; they are "strong in the Lord and in the power of His might" (Eph. 6:10)!
The Hungry and Thirsty (Matthew 5:6)

"Blessed are those who hunger and thirst for righteousness, for they shall be filled" (v.6). We have often heard it said that the world is hungry for the gospel of the grace of God. But if this were so, the whole world would be saved in a very short time. The truth is that people of the world hunger and thirst, not for righteousness, but to satisfy the lust of the flesh, the lust of the eyes and the pride of life (1 John 2:16,17). This yields no lasting happiness. By faith Moses chose to suffer affliction alongside God's people, rather than enjoying the passing happiness and fleeting pleasures of sin. The happiness of sin is short-lived, but the happiness of the godly life is eternal (Heb. 11:23-29).
The Scriptures describe two kinds of righteousness:
Legal or self-righteousness, which is man's vain effort to establish his own righteousness by his own works – works of the law (Rom. 10:1-3). Such "law works" cannot save (Titus 3:5; Eph. 2:8,9); they produce only self-righteousness, which in the sight of God is "filthy rags" (Is. 64:6).

The righteousness of God in Christ. "For Christ is the end of the law for righteousness to everyone who believes" (Rom. 10:4). Faith alone brings lasting happiness. "For with the heart one believes unto righteousness, and with the mouth confession is made unto salvation" (Rom. 10:10). Believers live the righteous life, but they do so not in order to be saved, but because they know they are saved. Happiness is salvation's reward; in this life there is no greater joy. And there is even better to come: John said, "We know that when He is revealed [when Jesus comes again], we shall be like Him, for we shall see Him as He is" (1 John 3:2). We shall see Him in all His glory. This will be heavenly happiness.
The Merciful (Matthew 5:7)

"Blessed are the merciful, for they shall obtain mercy" (v.7). This beatitude does not mean that, if you show mercy to people, they in turn will show mercy to you. Some will, but not all; some may even persecute you in return. We cannot expect to receive mercy from those who do not know our merciful Savior. Jesus Christ showed mercy throughout His earthly ministry. He healed the sick, He cleansed the lepers, and He made the dumb speak, the deaf hear, the blind see, and the lame walk. He raised the dead and fed multitudes. He never failed to show mercy., but did He obtain mercy from the people? No, the Roman army, the religious leaders, and many of their followers joined efforts to put Him to death. They showed only religious hatred for God the Son (Matt. 26 and 27; cf. Is. 53:1-12). "Blessed are the merciful, for they shall obtain mercy" – but not from sinful humanity!
We are to sow mercy, knowing well that the recipient may never show mercy in return. We are to bestow it in the name of our merciful Christ, who Himself will reward us in this life and in heaven. An illustration is the parable of the Good Samaritan, spoken by Jesus in answer to a lawyer who asked, "And who is my neighbor?" (Luke 10:29). Jesus told of a man traveling from Jerusalem to Jericho who was robbed, wounded, and left half dead by thieves. A priest came by and saw the man but did not stop to help; he showed no mercy. A Levite also came along, stopped to look, then continued on his journey; he showed no mercy. But a Samaritan saw him, had compassion on him, and helped him without expecting anything in return. Jesus asked the lawyer, "So which of these three do you think was neighbor to him who fell among the thieves?" When the lawyer answered, "He who showed mercy on him," Jesus said, "Go and do likewise" (Luke 10:25-37). "Blessed are the merciful, for they shall obtain mercy."
The Pure in Heart (Matthew 5:8)

"Blessed are the pure in heart, for they shall see God" (v.8). The unsaved man cannot have a pure heart as long as he rejects the Lord Jesus as Savior (Acts 4:12); the things of God are foolishness to him (1 Cor. 2:14). The natural (unregenerate) "heart is deceitful above all things, and desperately wicked" (Jer. 17:9)
Who are the pure in heart?
They are void of hypocrisy (Ps. 24:3-5).
Psalm 24:3-5 (NKJV) 3  Who may ascend into the hill of the LORD? Or who may stand in His holy place? 4  He who has clean hands and a pure heart, Who has not lifted up his soul to an idol, Nor sworn deceitfully. 5  He shall receive blessing from the LORD, And righteousness from the God of his salvation.

They have room for only one master, Christ (Matt. 6:24).
Matthew 6:24 (NKJV)  "No one can serve two masters; for either he will hate the one and love the other, or else he will be loyal to the one and despise the other. You cannot serve God and mammon.

They thirst for God as a deer thirsts for the water brook (Ps. 42:1).
Psalm 42:1 (NKJV)  As the deer pants for the water brooks, So pants my soul for You, O God.

They have a newly created heart (2 Cor. 5:17). David prayed, "Create in me a new heart, O God" (Ps. 51:10).
2 Corinthians 5:17 (NKJV)  Therefore, if anyone is in Christ, he is a new creation; old things have passed away; behold, all things have become new.

Psalm 51:10 (NKJV)  Create in me a clean heart, O God, And renew a steadfast spirit within me.

They confess and forsake all known sin (Prov. 28:13).
Proverbs 28:13 (NKJV)  He who covers his sins will not prosper, But whoever confesses and forsakes them will have mercy.

They never try to hide sin from God (Ps. 32:5).
Psalm 32:5 (NKJV)  I acknowledged my sin to You, And my iniquity I have not hidden. I said, "I will confess my transgressions to the LORD," And You forgave the iniquity of my sin. Selah

They are able to sin but cannot be happy in sin (Ps. 51:1-4). When they sin, they repent and seek forgiveness (1 John 1:9).
Psalm 51:1-4 (NKJV) 1  Have mercy upon me, O God, According to Your lovingkindness; According to the multitude of Your tender mercies, Blot out my transgressions. 2  Wash me thoroughly from my iniquity, And cleanse me from my sin. 3  For I acknowledge my transgressions, And my sin is always before me. 4  Against You, You only, have I sinned, And done this evil in Your sight– That You may be found just when You speak, And blameless when You judge.

1 John 1:9 (NKJV)  If we confess our sins, He is faithful and just to forgive us our sins and to cleanse us from all unrighteousness.

They are spiritually minded; they have the mind of Christ (1 Cor. 2:15,16).
1 Corinthians 2:15-16 (NKJV) 15  But he who is spiritual judges all things, yet he himself is rightly judged by no one. 16  For "who has known the mind of the LORD that he may instruct Him?" But we have the mind of Christ.

Only they will see God.
The Peacemakers (Matthew 5:9)

"Blessed are the peacemakers, for they shall be called sons of God" (v.9). To become this kind of peacemaker, we must first be "justified freely by His grace through the redemption that is in Christ Jesus" (Rom. 3:24). To be justified is to be declared just by Almighty God because of the imputed righteousness of the Lord Jesus Christ. For God to us declare just, we must believe that
Christ was offered on the cross to bear our sins (Heb. 9:28).

He was buried and in the tomb three days and nights;

He rose again the third day according to the Scriptures (1 Cor. 15:3,4).

"Therefore, having been justified by faith, we have peace with God through our Lord Jesus Christ" (Rom. 5:1). Now that we have peace with God, we can also share our faith with those at enmity against God (Rom. 8:7,8). A peacemaker is one who shares the gospel with those who are lost, showing them how they can have peace with God, after being justified by grace through faith in the Lord Jesus Christ (Eph. 2:8,9).
Love

What does love really mean? I say I love my wife, I love ice cream, I love French Cuisine. There's only one word in English to describe love. In the Greek language there are four major words.
One is Eros, which really is not used in the Bible, and is defined as sexual attraction or sexual love. God ordained that kind of love when He said a man shall leave his father and mother, cleave to his wife, and they shall become one flesh, meaning, Eros is restricted to the marriage relationship.
Another kind of love is called Storge and is the natural bond or affection in a family relationship. Then there is phileo, which comes from the root word Philia. This means a warm feeling of affection that comes and goes in intensity. Most people who talk about love think that is what love really is, so "I fall in love and I fall out of love." If your marriage is built on that kind of love, there will be times when you have a high and times when you have a low. You could fall in love and out of love based on that.
The Bible says we're to love each other with God's kind of love, which is Agape love. What is "agape" love? There are many facets, and 1 Corinthians 13 gives the whole definition of what love involves.
1 Corinthians 13:4-8 (NKJV) 4  Love suffers long and is kind; love does not envy; love does not parade itself, is not puffed up; 5  does not behave rudely, does not seek its own, is not provoked, thinks no evil; 6  does not rejoice in iniquity, but rejoices in the truth; 7  bears all things, believes all things, hopes all things, endures all things. 8  Love never fails. But whether there are prophecies, they will fail; whether there are tongues, they will cease; whether there is knowledge, it will vanish away.

In 1 John 5:3 it says, "For this is the love of God, that we keep His commandments." Jesus' commandments show us expressions of love, but if I were going to sum it up, I would use Matthew 7:12, "Therefore all things whatsoever ye would that men should do to you, do ye even so to them: for this is the law and the prophets."
It's not a matter of all those people down at the church don't love me, don't care about me, and this and that. No, the Bible says whatever you would want someone to do to you, you do to them first. That is love. It goes against our flesh, against our natural grain to seek the welfare and benefit of other people above ourselves. It takes God. Don't think I'm saying this can be manifested without God.
The Bible says the fruit of the Spirit is love, and God is love. He is the source of love and the one who will show us how to love through His commandments. He's the one who will give us strength, even in light of our flesh, to make the right choices and decisions and act on the right principles.
Maranatha

The expression "Maranatha!" was a key watchword and prayer among the early Christians. It is an Aramaic word which is a combination of two words "marana – tha" which literally mean "the Lord comes" or in the imperative case "Come, Lord!"
1 Corinthians 16:22 (NKJV)  If anyone does not love the Lord Jesus Christ, let him be accursed. O Lord, come!

Revelation 22:20-21 (NKJV) 20  He who testifies to these things says, "Surely I am coming quickly." Amen. Even so, come, Lord Jesus! 21  The grace of our Lord Jesus Christ be with you all. Amen.

It is time we prepared ourselves for Jesus' return. It is our hope.
Titus 2:11-13 (NKJV) 11  For the grace of God that brings salvation has appeared to all men, 12  teaching us that, denying ungodliness and worldly lusts, we should live soberly, righteously, and godly in the present age, 13  looking for the blessed hope and glorious appearing of our great God and Savior Jesus Christ,

Manifesting Kingdom Principles

We now come to the second section of the King's manifesto. In the Beatitudes we have seen what the Christian is; now we are told how to manifest kingdom principles. As the King's subjects, we are not to withdraw from the world; we are in the world, but not of it. Jesus said, "You are the salt of the earth" (Matt. 5:13); but if you lose your saltiness (tang), you are good for nothing. Again He said, "You are the light of the world" (Matt. 5:14). But if you put your light under a bushel, you will not expel darkness in others around you. Your light does not shine to be seen, but that others may see Christ in you, hunger and thirst after His righteousness.

When you are abused, turn the other cheek; go the second mile; pray for and love your enemies. Why? Because "you are a chosen generation, a royal priesthood, a holy nation, His own special people, that you may proclaim the praises of Him who called you out of darkness into His marvelous light" (1 Pet. 2:9).

Yes, we are the aristocracy of heaven, children of the King of kings and Lord of lords. Don't lose your saltiness or dim your light. The world is in spiritual darkness, blinded by the power of Satan, the prince of darkness (2 Cor. 4:4). Live close to Christ and reflect His light; He is the Light of the World (John 8:12).
Believers Are Salt and Light. (Matthew 5:13-16)

Christ, the Law, and the Prophets. (Matthew 5:17-20)

The King's Moral Requirements. (Matthew 5:21-32)

Christ speaks on Oaths. (Matthew 5:33-37)

Turn the Other Cheek, Go the Second Mile, and Love Your Enemy. (Matthew 5:38-48)

Believers Are Salt and Light

Believers are salt and light (vv. 13-16). The teachings of Jesus are rich in parabolic metaphors. In these verses He uses two familiar and important elements of everyday life: salt and light.

"You are the salt of the earth" (v.13). Salt is aseptic; it does not cure corruption, but it can prevent decay from occurring. It also seasons food, making it more palatable to the taste. Similarly, your Christian influence in the world – measured by your conformity to the Beatitudes – is like salt that checks the spread of sin (corruption). However, "if the salt loses its flavor, how shall it be seasoned [made salty]? It is then good for nothing." (v.13). Jesus is warning believers not to lose their Christian influence – their saltiness – in this corrupt world.


"You are the light of the world" (v.14). Light does not shine to be seen, but to enable others to see – and what they are to see is not the Christian, but Christ. "Let your light so shine before men, that they may see your good works [not you] and glorify your Father [not you] in heaven" (v.16). He said, "A city that is set on a hill cannot be hidden" (v. 14), suggesting a city whose streetlamps and home lights shine through the darkest night. This is a beautiful metaphor of a congregation filled with that spiritual light that comes from Him who is light, in whom "is no darkness at all" (1 John 1:5-7). He added, "Nor do they light a lamp and put it under a basket, but on a lampstand and it gives light to all who are in the house" (v. 15). In this part of the metaphor, believers are taught to let their light shine, in their homes and elsewhere, to light the way to Jesus for the family and others. When congregated together, believers become a city on a hill, a beacon lighting the way to Jesus for all who can see the light.

Christ, the Law, and the Prophets

Christ said, "Do not think that I came to destroy… but to fulfill" the Law and the Prophets (v.17). With these words He placed His seal of authenticity on the Old Testament – the Law and the Prophets. He is the only Man who kept the whole law of God from the moment of birth, never breaking the least commandment, not "one jot or one tittle" (v.18). "For whoever shall keep the whole law, and yet stumble in one point, he is guilty of all" (James 2:10). Jesus walked this earth for some thirty-three years, and even after all those years He could challenge His enemies, saying, "Which of you convicts Me of sin?" (John 8:46). Pilate said of Jesus, "I find no fault in Him at all" (John 18:38). There is only one righteousness that is worthy of the kingdom of heaven, and that is the righteousness of Christ, who "is the end of the law for righteousness to everyone who believes… For with the heart one believes unto righteousness" (Rom. 10:4,9,10).

The King's Moral Requirements

In this portion of the Sermon on the Mount, our Lord contrasts the false teachings of the scribes and the Pharisees with His authoritative teaching on the moral commandments. "He taught them as one having authority, but not as the scribes" (Matt. 7:29). He appealed to no higher authority, because there is none higher: His authority is sovereign, because He is the God-Man. "And the Word [God] became flesh and dwelt among us" (John 1:14). In this part of His manifesto, the King disputed the scribes' and the Pharisees' interpretation of the moral law. Six times He made this challenging statement: "You have heard that it was said… But I say to you….." (v. 21,22). It is no wonder that when He ended the Sermon, "the people were astonished [amazed, speechless, dumbfounded] at His teaching" (Matt. 7:28).

"You have heard that it was said to those of old, 'You shall not murder' "(vv. 21-26). "You shall not murder" is the sixth commandment (Ex. 20:13). There is a difference between killing in general and murder. It is not murder when you kill to protect your home, family, self, or country. To murder is to kill a person with malice (premeditated or not). The Pharisees taught that as long as you did not shed innocent blood, that is, awfully take a life, you were innocent of transgressing the sixth commandment. Jesus corrected this interpretation, saying to people and to the Pharisees, "But I say to you that whoever is angry with his brother without a cause shall be in danger of the judgment" (v.22). Malice becomes murder in the heart, and God will judge such "murder." If you commit murder in your heart, or call a brother a fool, and later, while worshiping, you remember this transgression, you must leave the place of worship and make amends to your brother. It is as if you owed someone who is about to take you to court: Settle it out of court, for you cannot escape your obligation. Paul said, "Owe no one anything except to love one another" (Rom. 13:8-10). There is one debt that can never be paid in full – the debt of love. Without love it is impossible to fulfill God's holy law.


"You have heard that it was said to those of old, 'You shall not commit adultery' "(vv. 27-30). The Pharisees defined adultery as the act itself; they must have thought that God did not know the heart of man. Again Jesus said to the people and the Pharisees, "But I say to you that whoever looks at a woman to lust for he has already committed adultery with her in his heart" (v. 28); correspondingly, a woman has already committed adultery who lusts in her heart. You can easily commit adultery in your heart, aided today by books, magazines, movies, and television, until your eyes, in Peter's words, are "full of adultery" (2 Pet. 2:12-17). Your mind can control what the eye sees or what the hand touches. Job said, "I have made a covenant with my eyes; why then should I look upon young woman?" (Job 31:1).


"It has been said, 'Whoever divorces his wife, let him give her a certificate of divorce' "(v.31). Here again, Jesus corrects the teachings of the scribes and Pharisees. "But I say to you that whoever divorces his wife for any reason except sexual immorality causes her to commit adultery" (v.32).

Later, when the Pharisees came to Jesus to test Him, asking, "Is it lawful for a man to divorce his wife for just any reason?" (Matt. 19:3), they were trying to get Jesus to contradict the teachings of Moses on divorce (Deut. 24:1-4). In their narrow, legalistic interpretation of Moses' law, a man could simply write out a note saying that he was divorcing his wife for some trivial reason. His response, however, was to repeat His earlier teaching – basing it on the Creation account written by Moses (Matt. 19:1-9)! (The apostle Paul gives still another reason for divorce, one which did not exist until the formation of the New Testament church – 1 Cor. 7:10-15).

Adultery is a sin, but no sin of immorality is unpardonable. Jesus forgave an adulterous woman, saying, "Go and sin no more" (John 8:1-12). To the Samaritan woman, married five times and now living with a man who was not her husband, Jesus revealed that He was the Messiah, inviting her to drink the water of eternal life so that she might never thirst again (John 4:1-42).

Christ Speaks on Oaths

"Again you have heard that it was said to those of old, 'You shall not swear falsely, but shall perform your oaths to the Lord.' But I say to you, do not swear at all" (vv. 33,34). In other words, if we were living up to the Sermon on the Mount, we would never need to take an oath, in or out of court.

Is your word your bond? Or do you speak with a forked tongue, or from both sides of your mouth? When you make a business transaction, do you say one thing and mean another? Are you a double-talk artist? Jesus said, "Let your 'Yes' be 'Yes,' and your 'No,' 'No.' For whatever is more than these is from the evil one" (v. 37; cf. John 8:44). To the honest person, yes is yes and no is no. There is no gray area – truth is truth and a lie is a lie; even though we may call it a "little white lie," it is still a lie, and we are liars (James 3:5-10).

If the world could live up to the teaching of this kingdom manifesto, most of the world's problems could be solved. When the King of king returns to this earth and establishes His Kingdom, His manifesto will be obeyed, and mankind will learn to tell the truth – God's truth.

Turn the Other Cheek, Go the Second Mile, and Love Your Enemy

"You have heard that it was said, 'An eye for an eye and a tooth for a tooth.' But I tell you not to resist an evil person" (vv. 38,39). If they slap you on the cheek, give them the other cheek to strike. If anyone sues you for your tunic, give him your cloak also. If he compels you to carry his burden for a mile (Roman soldiers could do this, under Roman law), offer to carry it a second mile (vv. 38-42). The believer has the ability to demonstrate his new life in Christ, "because the love of God has been poured out in our hearts by the Holy Spirit who was given to us" (Rom. 5:5).

"You have heard… 'You shall love your neighbor and hate your enemy'" (v. 43). This was the teaching of the scribes and the Pharisees. But Jesus said, "Love your enemies, bless those who curse you, do good to those who hate you, and pray for those who spitefully use you and persecute you" (v. 44). Pray for them in love, from a heart filled with the love of God (1 Pet. 1: 22, 23).

Why? Because God loves them that love throughout their wicked lives. His sun shines on the evil and the good; His rain falls on the just (those who have been justified by faith – Rom. 5:1), and on the unjust (the unsaved). But if we love only those who love us, we are no better than the ungodly, who do the same.

Even if we love our antagonist and show it by turning the other cheek and by going the second mile for a taskmaster, we may suffer persecution, even as the apostles were beaten for daring to preach Christ. They responded by "rejoicing that they were counted worthy to suffer shame for His name" (Acts 5:40-42). They practiced the kingdom principle by turning the other cheek and loving their enemies, because the love of God filled their hearts (Rom. 5:5); they "will receive the crown of life [a reward] which the Lord has promised to those who love Him" (James 1:12).

As subjects of God's kingdom, not only are we to do what is demanded of us by the laws of man, we are to go beyond the demands of the law, even though it may be an unjust law. If someone takes your shirt, give him your coat also. If you are compelled to go a mile for someone, go two miles in the spirit of the Lord. Do you love your family and friends? You should love those who love you; this is easy. But do you love your enemy? This is the true test of the kingdom principle.

Forgiveness

Matthew 18:21-22 (NKJV) 21  Then Peter came to Him and said, "Lord, how often shall my brother sin against me, and I forgive him? Up to seven times?" 22  Jesus said to him, "I do not say to you, up to seven times, but up to seventy times seven.

I think Peter thought he was being very generous to ask how many times he should forgive someone who sinned against him, "seven times in a day, do you think?" Jesus said, "Peter, not seven but seventy times seven." That's 490 times, but it doesn't mean that after 490 times you don't have to forgive. What Jesus said was an impossible number of offenses that would happen to an individual in a day. He was saying forgiveness should be continual, that it should go on and on. Forgiveness should be the real attitude of a Christian. Jesus said in Luke 23:34, "Father forgive them; for they know not what they do." And also Stephen the martyr, in Acts 7:60 said, "Lay not this sin to their charge." Not all people will receive forgiveness, but the attitude in the heart of a Christian should be always to offer it.
Jesus tells a parable about forgiveness when He continues in verse 23 of Matthew 18, "Therefore is the kingdom of heaven likened unto a certain king, which would take account of [make a reckoning with] his servants, And when he had begun to reckon, one was brought unto him, which owed him ten thousand talents. [The Living Bible says that is like ten million dollars.] But forasmuch as he had not to pay, his lord commanded him to be sold, and his wife, and children, and all that he had, and payment to be made. The servant therefore fell down, and worshipped him, saying, Lord, have patience with me, and I will pay thee all" (brackets mine). Now, here's the situation: There is a man who actually owes ten million dollars to his master. There is no way he can pay it-he knows he can't and the master knows he can't. In those days, you couldn't claim bankruptcy like you can in the United States-they'd sell you, your wife, your children, and everything you had, and you'd go into slavery. You would be sent to prison until everything was paid, and if it never was, you'd stay in prison all your life. This man did the only thing he knew to do: He got down on his knees and cried for mercy, "O master, please be patient with me! Please, I beg you. I'll repay you everything. Just be patient!" Notice what happened in verse 27. It says the master was moved with compassion for him, and he forgave him his debt.
We had a debt we could not pay. The Bible says that the wages of sin was death (Rom. 6:23)-separation from God for eternity-all the silver and gold in the world couldn't redeem us. Then God in His compassion and in His grace sent His Son Jesus Christ to earth to pay the debt we couldn't pay. God looked upon us in His compassion and mercy and said, "I forgive you that debt."
Jesus said in the parable in Matthew 18 that if we do not forgive from our hearts after we've been forgiven such a great debt by our heavenly Father, we will be delivered into the hands of the tormenters. What are the tormenters? They can be all kinds of things–demonic strongholds, oppression, sickness, depression, disease, and many other things. The root is unforgiveness. Not forgiving after we have been forgiven allows Satan a foothold in our lives. The Bible says we have to make the decision to forgive. In the Lord's prayer (Matt. 6:9-11), Jesus said to forgive as we've been forgiven.
Mark 11:25-26 says that when we pray, if we have anything against anyone, we're to forgive. What does that mean? Unforgiveness should stay in our hearts how long? Only as long as it takes us to go to the Lord and pray. And if we have the slightest bit of unforgiveness against anyone, we should release them and say, "God, I'm letting them go today. I'm forgiving them. I'm making a choice because You forgave me such a great debt."
Miracles

Miracles are God's direct supernatural interventions in the world where He overrides or suspends the laws of nature to accomplish His purposes. The miracles in the Bible include physical healings, resurrections, controlling nature, and casting out demons. They also involve cosmic signs and judgments like the plagues against Egypt.
Miracles do not occur in a vacuum. They operate within the context of bigger themes. One such theme is God's sovereignty. In reality, the question of miracles at its simplest is a question of whether an infinite, sovereign God has the power as well as the right to demonstrate that power within the sphere over which He rules. The answer to that question is a resounding, Yes!
Another important theme that intersects with kingdom miracles is the fall of man. Miracles occur because of negative circumstances in a fallen and cursed world. For example, physical healings in the Bible occur because people are sick. Resurrections occur because people die. Nature miracles occur because creation threatens man (i.e. Jesus calming a threatening storm). Exorcisms were needed because Satan and demons harm people.
Miracles were not needed before the fall when there was no sickness, death, nature run amok, or demon possession. Miracles also are not necessary in the eternal kingdom because nothing bad happens there. Miracles are acts of restoration. They correct something gone wrong. They are tastes or glimpse of the restoration of all things (see Acts 3:19-21). Miracles, therefore, are inherently related to the kingdom of God and have kingdom implications.
Miracles serve several purposes. They are acts of compassion. Also, miracles confirm God's messengers (see Heb 2:3-4).
Hebrews 2:3-4 (NKJV) 3  how shall we escape if we neglect so great a salvation, which at the first began to be spoken by the Lord, and was confirmed to us by those who heard Him,
4  God also bearing witness both with signs and wonders, with various miracles, and gifts of the Holy Spirit, according to His own will?

Miracles are also closely connected to God's kingdom plans. The coming of God's kingdom involves miracles. Just as miracles were associated with Israel's kingdom after the exodus, so too miracles will be associated with Messiah's reign. This was true with Jesus' first coming (see Matt 4:17, 23-24). It was also true for the apostles who performed miracles as part of their proclamation of Jesus and His kingdom in Acts 3. It will also be true in the future when the two witness of Revelation 11 perform miracles in light of the soon return of Jesus.